ABOUT ΤΗΕ
ICMG
---
Τhe role of the ICMG is to promote Sport and Olympism, as well as the ideals and values they embody in the countries of the Mediterranean Basin.
We are dedicated in promoting the spirit of peace, friendship, excellence, open mindedness and unity among the countries of the Mediterranean Basin, a sea that for 3000 years has given birth to great civilizations, religions, cultures and traditions, as well as the Values and the Spirit of Olympism.
Hidden at the bottom of the sea or standing proudly on the land, monuments of the Mediterranean history are still revealing today the pioneering spirit, that sharply marked human values, philosophy, mathematics, architecture, astrology, literature, arts and sciences, that are still honored and admired nowadays worldwide.
The Mediterranean spirit has to be treasured and pampered to blossom always.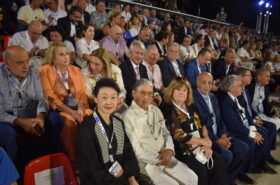 The Mediterranean Beach Games Heraklion 2023 provided the opportunity for productive meetings between the Olympic and the Mediterranean family. The…